October Flavors
CALL US FOR OUR Gluten Free Flavors! 801.899.2185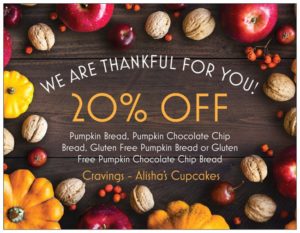 Fall Special! 20% OFF Pumpkin BREAD!  
Pumpkin, Pumpkin Chocolate Chip, Gluten Free Pumpkin and Gluten Free Pumpkin Chocolate Chip.
Only applies on BREAD!
Must Show Us The Coupon!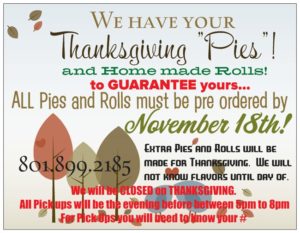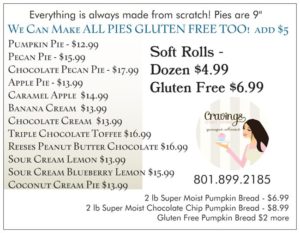 Interested in placing an order? We love it! All we ask is that you submit your order in at least 48 hours ahead of time. Send us a message at alishanuttall@gmail.com or if you need to get a hold of us faster TEXT us at 602.463.0203 and we'll get in touch with you in a flash!
Our "Standard Size" cupcake that you can grab at our shop anytime is about double the size of a grocery store "standard size" cupcake
Our "minis" are a tad smaller than your grocery store "standard size" cupcake and are $1 less.  Minis must be ordered 24 hours prior and ordered by the dozen
*Blueberry Lemon $3 – A lemon blueberry cupcake filled with a sour cream lemon curd topped with whipped cream frosting and garnished with a lemon slice and blueberry.
Goodies:
PGFD (Pleasant Grove Fire Department) Red Velvet Trifle $4 – Layers of our red velvet cake, vanilla mousse, and topped with crushed oreos.
Pumpkin Cheesecake Trifle $4.50 – Layers of our super moist pumpkin bread, gooey caramel, cheesecake, whipped cream and topped with our famous candied pecans.